Book club inspiration and advice
We can offer suggestions for great reading choices, and help you come up with discussion worthy questions for your meetings. Just talk to our staff at the service desk.
Getting your book club sets
Choose from our growing collection of book club sets. Our book club sets include choices for adults and children; teachers are welcome to borrow our children's book club sets on their library card!
Teachers - get book sets for your class
Teachers, we have a large collection of book club sets available for borrowing, especially suited for grades 4-6. Borrow a set on your library card. Loan periods are six weeks long.
Our team is here to help!
For more information on our Book Club Services,
please contact Elizabeth at 905-775-3328 ext. 6122 or by email at ecampbell@bradford.library.on.ca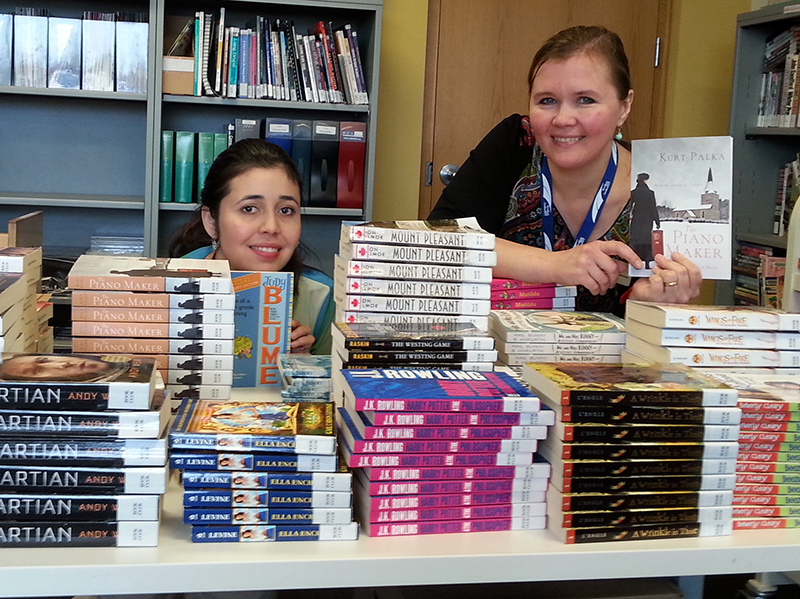 Here are some helpful resources for both new and established book clubs.
Amnesty International's Book Club is a free book club that anyone can join. With author interviews, podcasts, webinars, online discussion forum, and a discussion guide, Amnesty International Book Club provides the support for the reader to find out more about the issues and the background of their selected read. Amnesty International Book Club also features many Canadian novels.
Book Club Central is the American Library Association's hub for book clubs. Lots of reading suggestions and advice for new and existing clubs.
Bookclubbish is a website hosted by American publishing professionals, in support of book clubs everywhere. Award-winning actor, producer, designer, library supporter and avid reader Sarah Jessica Parker is the honorary chair for Book Club Central. In this role, Ms. Parker selects books throughout the year to share her joy of reading and discussing good books with readers everywhere.
Actress, producer and entrepreneur Reese Witherspoon loves to read and often options her favourite books for movies/tv shows. Here's what she's reading and recommending.
The actress and model Emma Watson also has a book club, focusing on non-fiction titles in the area of feminism and women's studies.