Bradford West Gwillimbury Public Library
Seniors Month: Nutrition Talk
Wednesday, June 7, 12 - 1 p.m.
Join us as we celebrate Seniors Month in partnership with the Town of Bradford West Gwillimbury Leisure Centre as we learn about healthy living and nutrition. Drop-in. No registration required.

Breastfeeding Support Group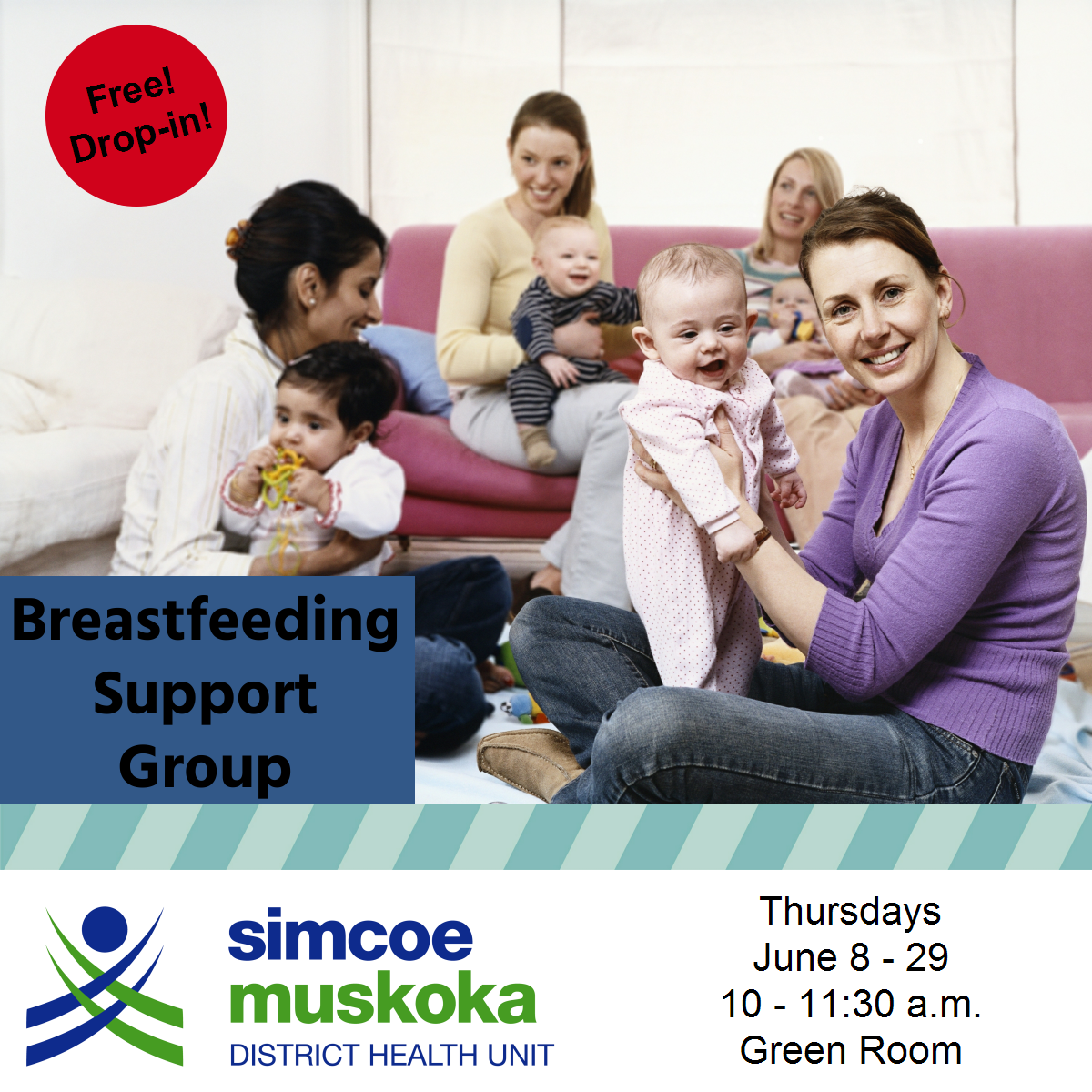 Monday, June 12
6:30 - 7:30 p.m.
Learn key strategies for writing effective captions and post to make your social media account stand out and shine just in time for summer! Drop-in. No registration required.
National Indigenous Peoples Day
Wednesday, June 21
In celebration of National Indigenous Peoples Day, we will be screening three Indigenous films from the National Film Board in the café on loop starting at 9:30 a.m.: Arctic Song, Nalujuk Night, and Evan's Drum.
Then, at 4:30 p.m. we will have a flag raising, followed by an evening of traditional drumming, dance, and storytelling on the Library Lawn and a pop-up market featuring Indigenous vendors.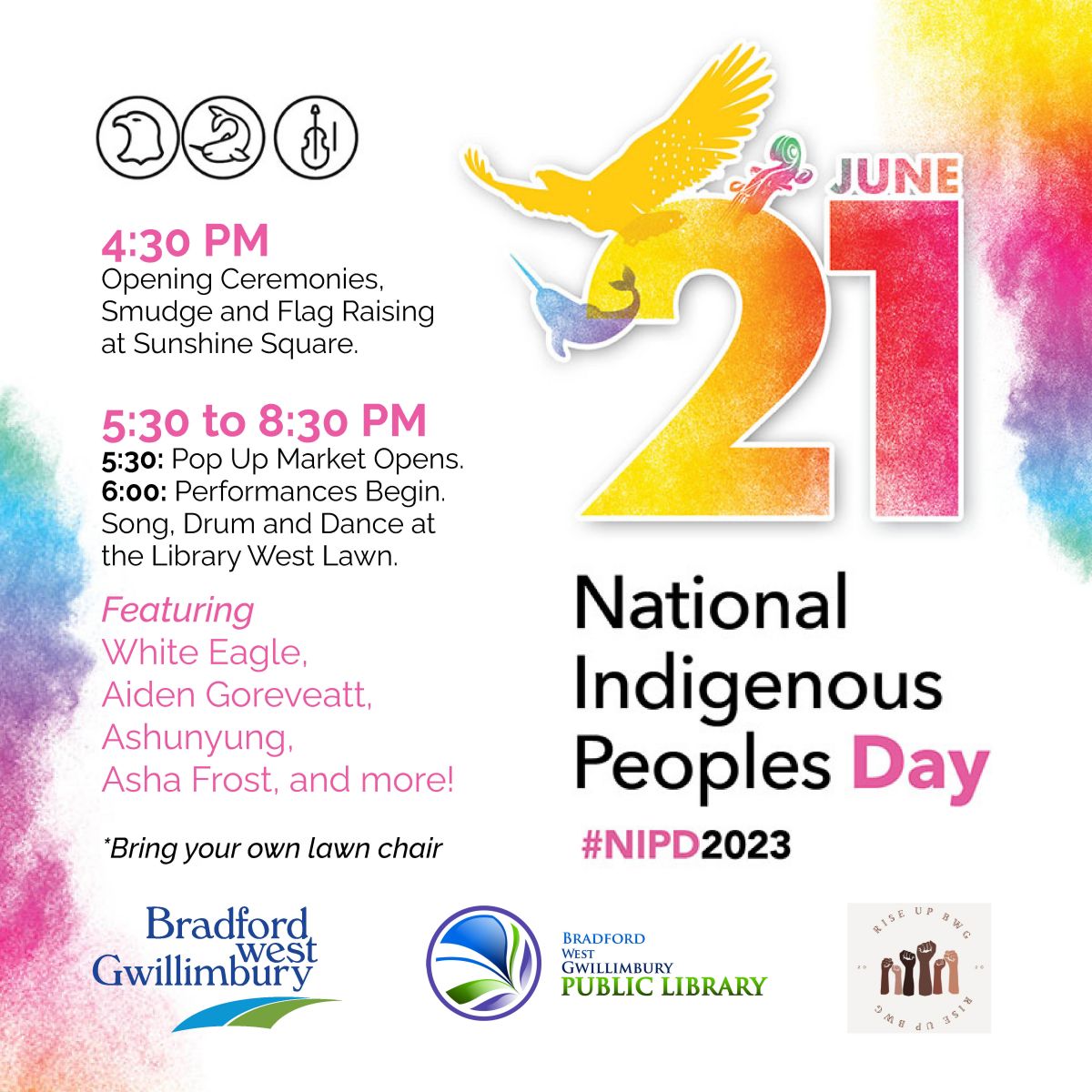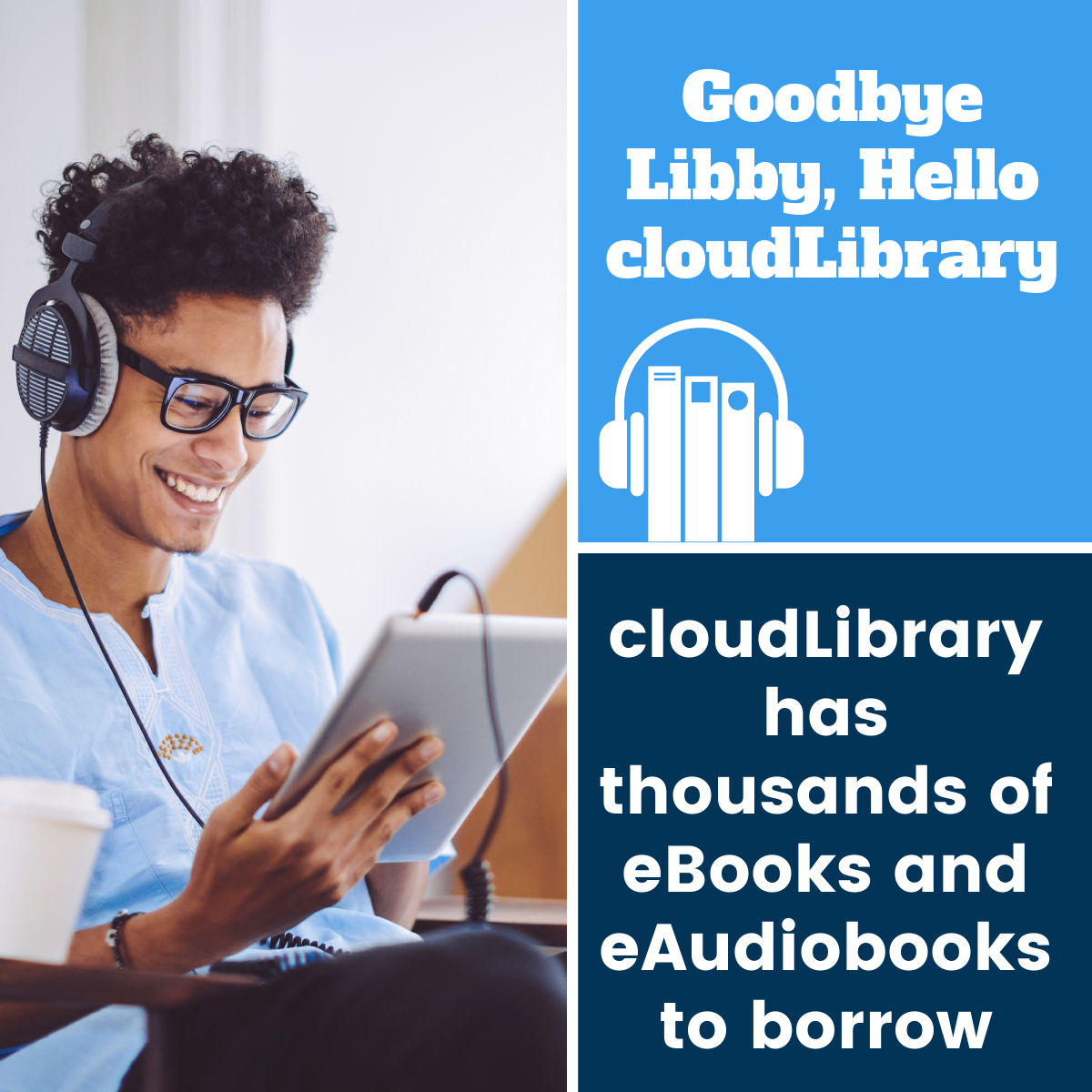 Have you tried cloudLibrary yet? If you love to read, or to listen to eaudiobooks, you'll find so much to borrow here. Click on the image above to see the cloudLibrary collection.
A note to Libby and Overdrive users: Libby and Overdrive are no longer available to our users. We encourage you to try cloudLibrary. Their app is easy to download and use. For more information and assistance, please talk to staff at the Service Desk.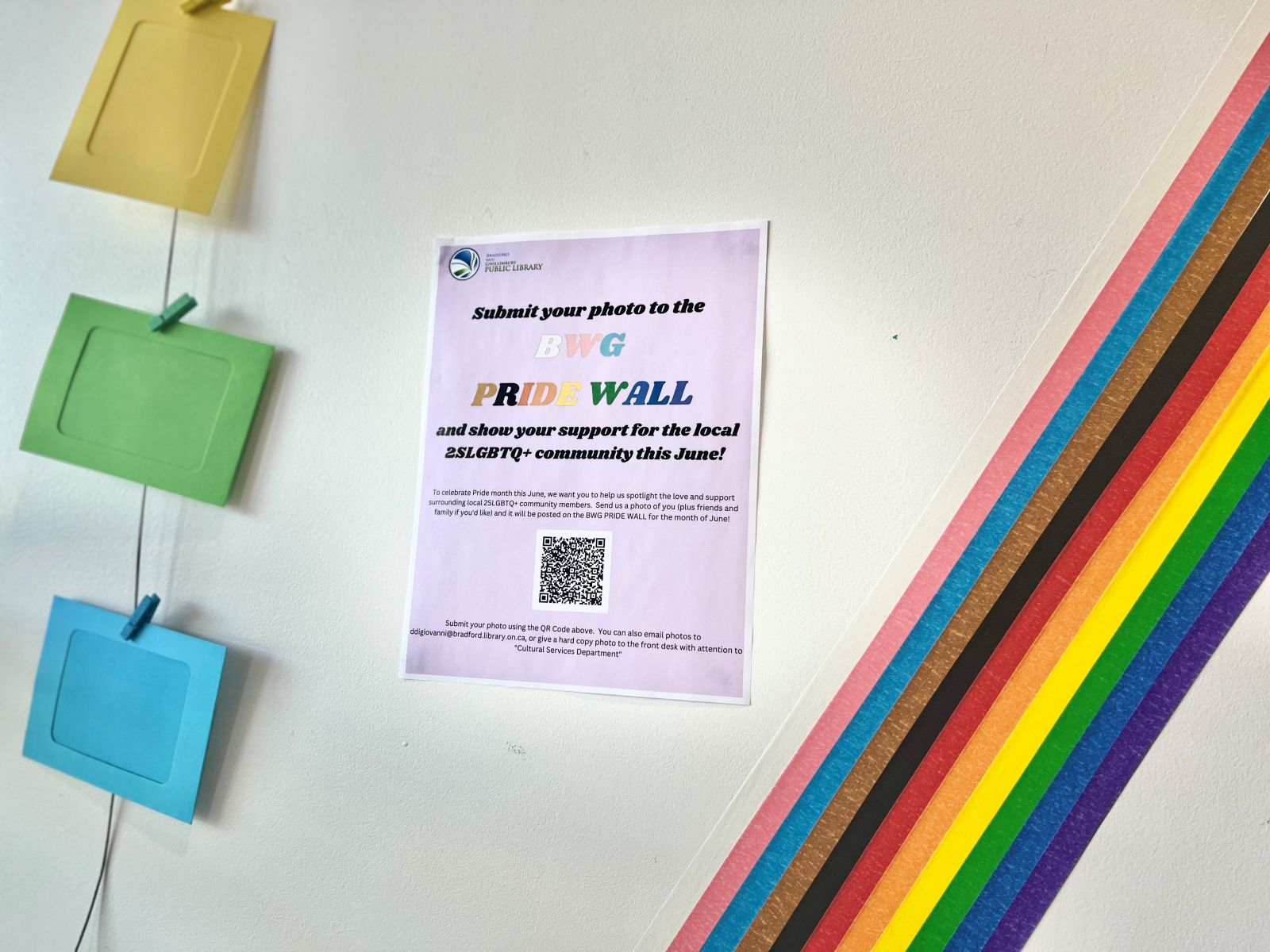 🌈📸 Be a part of our Pride Wall at the Library! 📸🌈
Calling all members of our vibrant community! We are excited to invite you to contribute to our Pride Wall at the library—a powerful visual celebration of love, diversity, and acceptance during Pride Month.
Share your Pride: We want to showcase the beauty and strength of our community by featuring your most inspiring, heartwarming, and empowering photos. Whether it's a snapshot from a Pride parade, a joyful gathering, or a moment that fills you with pride, we want to see it!
How to participate:
1️⃣ Select your favorite Pride-themed photo that represents your personal journey, your support, or your experiences during Pride Month.
2️⃣ Fill in our submission form here and send photos to David at ddigiovanni@bradford.library.on.ca
Selected photos will be carefully chosen by our team to create a powerful and inclusive Pride Wall display at the library.
Join us in making our Pride Wall a true reflection of our beautifully diverse community—a testament to love, acceptance, and unity. Together, let's create a space that inspires, uplifts, and fosters understanding for everyone who visits the library.
An Afternoon with The Deveraux Dolls
Saturday, June 10
12:30 and 2:30 p.m.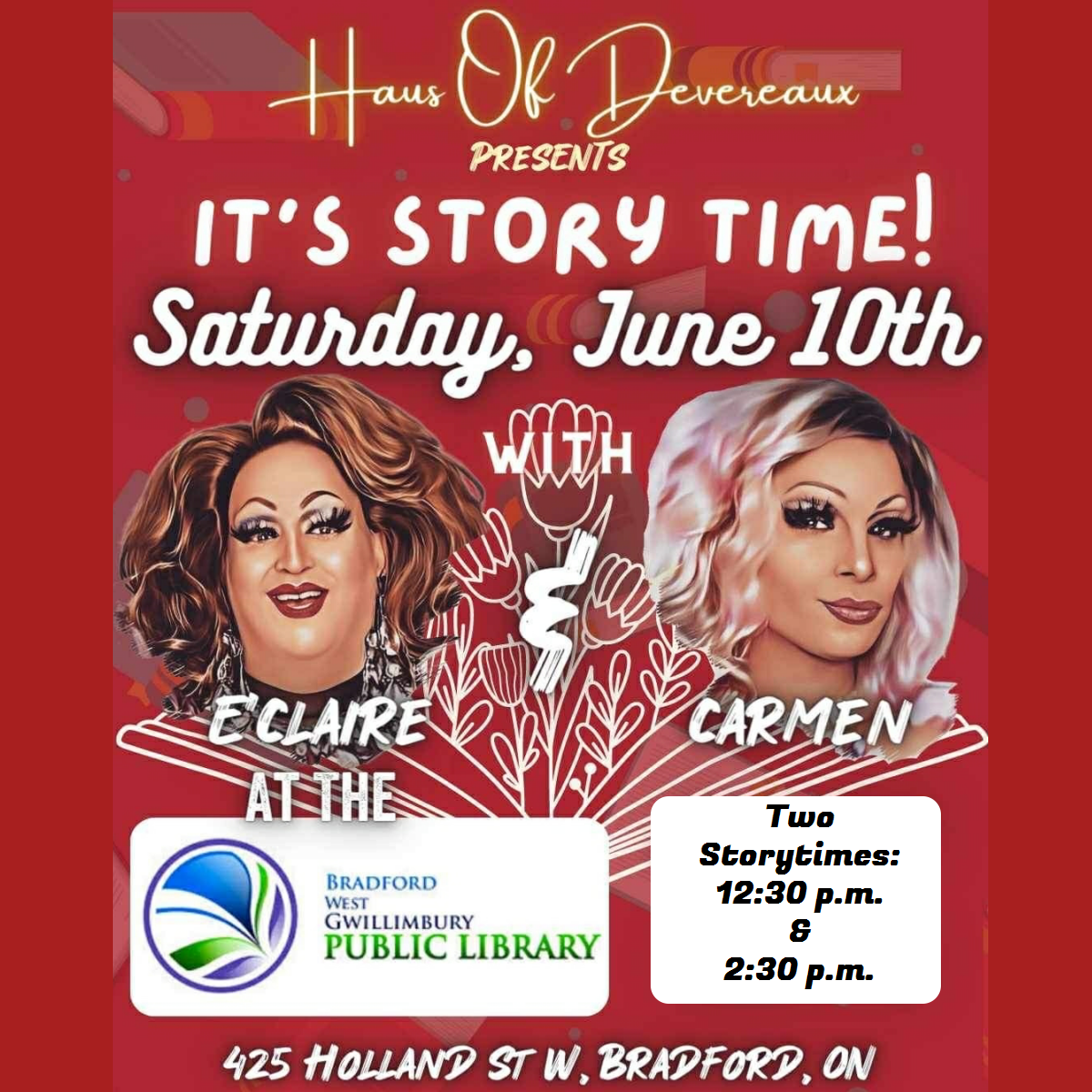 Join us for a special storytime with The Deveraux Dolls!
This is a wonderful opportunity for children to engage with literature and learn about acceptance, empathy and the beauty of individuality.
Listen to stories from The Devereaux Dolls followed by some fun crafts! There will be two timeslots: 12:30 p.m. and 2:30 p.m.
This event is designed to promote inclusivity, creativity, and love for reading.
Let's come together to support a diverse and inclusive society where every child can see themselves reflected in the stories we share.
Capacities are limited. Space is made available on a first-come, first-served basis. Children 11 and under must be accompanied by an adult.
Summer Reading Club Kickoff
Satruday, June 24
10:30 a.m. - 1 p.m.
Join us as we kickoff the season of reading adventures!
Come on down and be a part of the TD Summer Reading Club by registering at our library. Unlock a world of literary wonders and embark on an incredible journey of imagination and discovery.
But that's not all!
We have something special for our teenage and adult readers too! Pick up your very own summer reading challenge packs designed to keep you engaged, entertained and inspired throughout the sunny days ahead!

Catalogue and Account Access
Beginning
May, 23, 2023, 3 hours maximum
Monday - Friday
9:30 a.m. to 8:00 p.m.
Saturday
10:00 a.m. to 5:00 p.m.
Sunday
1:00 p.m. to 5:00 p.m.
Upcoming Closures
Thursday, June 22 from 12 - 2 p.m.
Saturday, July 1
Monday, July 3
The Bradford West Gwillimbury Public Library is committed to accessibility and is continually improving our digital platforms to ensure that everyone, including persons with disabilities, have full and equal access. Currently, the Library's website is partially conformant to the Web Content Accessibility Guidelines (WCAG) standard. We are diligently working towards conforming to the WCAG standard and are rolling out updates as they become available. Please contact us if you encounter accessibility barriers or if you require the arrangement of provisions to accessible formats and communication supports.
We would like to acknowledge that the land we are presently on is the traditional territory of many nations, which has been inhabited by Indigenous peoples for thousands of years. We are grateful for the opportunity to work here and we thank all the generations of people who have taken care of this land.
We acknowledge that we are situated on the traditional land of the Anishinaabe and the Huron-Wendat peoples. The Anishinaabe include the Ojibwe, Odawaand, and Potawatomi nations, collectively known as the Three Fires Confederacy. We also acknowledge that Bradford West Gwillimbury is covered by Treaty 18.
We are dedicated to honouring Indigenous history and culture and committed to moving forward in the spirit of reconciliation and respect with all First Nation, Métis, and Inuit people.
Diversity and Inclusion Statement
The Bradford West Gwillimbury Public Library seeks to create a welcoming environment for all those we serve and for our employees, based on any human rights protected ground (age, ancestry, citizenship, colour, race, ethnic origin, place of origin, creed, disability, family status, marital status, gender identity, gender expression, record of offences, sex, sexual orientation) and also income, education, appearance, addiction, or homelessness.
We are committed to working towards the elimination of bias, prejudice, and discrimination (interpersonal or systemic, whether intentional or unintentional) and promoting awareness of the benefits of a diverse community through our programs and services. We are also committed to engaging in meaningful dialogue and collaboration with all members of our community to shape and inform Library programs, services, policies, and practices.
We want to hear from you! Call the Library at 905-775-3328 ext. 6100 for Customer Service Specialists, or ext. 6109 for Information Specialists.
Click the chat box in the bottom right-hand corner of the home screen. If we're not available to chat, you can send us an email from there.
Connect with the BWG Library on Facebook and Instagram via our social media links below. Our handle across all platforms is @BWGLibrary.