Bradford West Gwillimbury Public Library

On Now
Windows at the West Library Entrance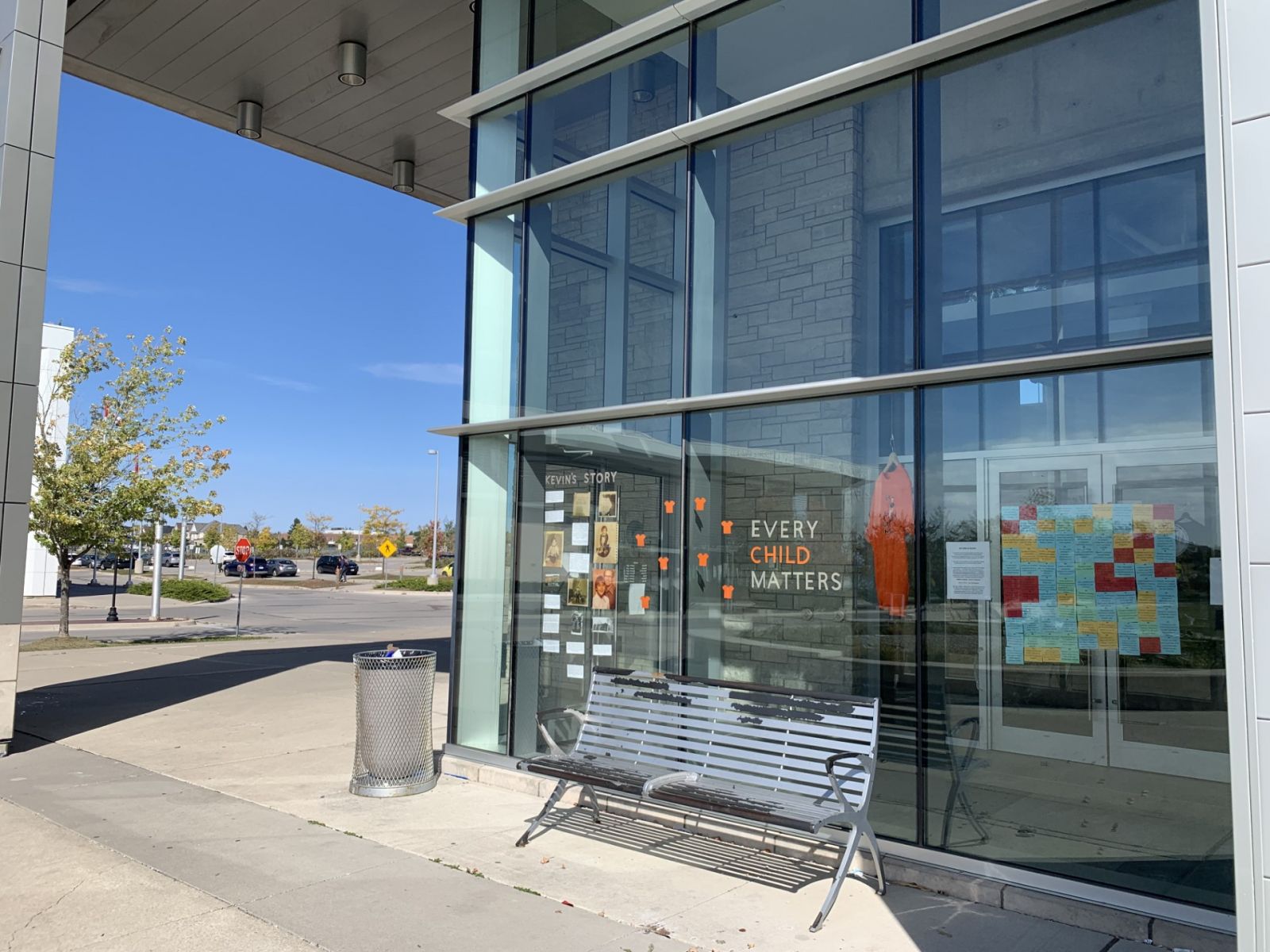 On the Library's West Door windows, we have shared a display commemorating National Day for Truth and Reconciliation.
The display provides a colour-coded status summary of all 94 Calls to Action from the Truth and Reconciliation Commission, provided by Indigenous Watchdog.
We are also displaying the story of Bradford resident and Sixties Scoop Survivor Kevin Morrison.
Saturday, September 30, 2023
BWG Leisure Centre, 471 West Park Ave., Bradford
In the spirit of reconciliation, and in partnership with RiseUpBWG and Bradford Farmer's Market, we invite the community of BWG to join us to memorialize the children lost to the residential school system and honour survivors, their families, and their communities.
9 a.m. Bradford Farmer's Market opens their special market day, featuring Rise Up BWG, Indigenous artisans, artists, and more!
10 a.m. Join us at Sunshine Square for a Smudge performed by White Eagle, a flag raising ceremony, and a guided story board walk along the BWG Public Library West Lawn.

New Additions - Indigenous Reads
Honouring Truth and Reconciliation
Join us as we explore resources to learn our shared history, and follow the path to Reconciliation. This month of September 2023, we feature rotating art works by Indigenous creators on our homepage.
Honour to Senator Murray Sinclair - 2021 - 29 minutes
As the Chair of the Truth and Reconciliation Commission, Senator Murray Sinclair was a key figure in raising global awareness of the atrocities of Canada's residential school system. With determination, wisdom and kindness, Senator Sinclair remains steadfast in his belief that the path to actual reconciliation between Indigenous and non-Indigenous people requires understanding and accepting often difficult truths about Canada's past and present. Alanis Obomsawin shares the powerful speech the Senator gave when he accepted the WFM-Canada World Peace Award, interspersing the heartbreaking testimonies of former students imprisoned at residential schools. The honouring of Senator Sinclair reminds us to honour the lives and legacies of the tens of thousands of Indigenous children taken from their homes and cultures, and leaves us with a profound feeling of hope for a better future. ~ National Film Board
Honour to Senator Murray Sinclair, Alanis Obomsawin, provided by the National Film Board of Canada
Catalogue and Account Access
The Bradford West Gwillimbury Public Library is committed to accessibility and is continually improving our digital platforms to ensure that everyone, including persons with disabilities, have full and equal access. Currently, the Library's website is partially conformant to the Web Content Accessibility Guidelines (WCAG) standard. We are diligently working towards conforming to the WCAG standard and are rolling out updates as they become available. Please contact us if you encounter accessibility barriers or if you require the arrangement of provisions to accessible formats and communication supports.
We would like to acknowledge that the land we are presently on is the traditional territory of many nations, which has been inhabited by Indigenous peoples for thousands of years. We are grateful for the opportunity to work here and we thank all the generations of people who have taken care of this land.
We acknowledge that we are situated on the traditional land of the Anishinaabe and the Huron-Wendat peoples. The Anishinaabe include the Ojibwe, Odawaand, and Potawatomi nations, collectively known as the Three Fires Confederacy. We also acknowledge that Bradford West Gwillimbury is covered by Treaty 18.
We are dedicated to honouring Indigenous history and culture and committed to moving forward in the spirit of reconciliation and respect with all First Nation, Métis, and Inuit people.
Diversity and Inclusion Statement
The Bradford West Gwillimbury Public Library seeks to create a welcoming environment for all those we serve and for our employees, based on any human rights protected ground (age, ancestry, citizenship, colour, race, ethnic origin, place of origin, creed, disability, family status, marital status, gender identity, gender expression, record of offences, sex, sexual orientation) and also income, education, appearance, addiction, or homelessness.
We are committed to working towards the elimination of bias, prejudice, and discrimination (interpersonal or systemic, whether intentional or unintentional) and promoting awareness of the benefits of a diverse community through our programs and services. We are also committed to engaging in meaningful dialogue and collaboration with all members of our community to shape and inform Library programs, services, policies, and practices.
We want to hear from you! Call the Library at 905-775-3328 ext. 6100 for Customer Service Specialists, or ext. 6109 for Information Specialists.
Click the chat box in the bottom right-hand corner of the home screen. If we're not available to chat, you can send us an email from there.
Connect with the BWG Library on Facebook and Instagram via our social media links below. Our handle across all platforms is @BWGLibrary.