The TD Summer Reading Club is back in the Library!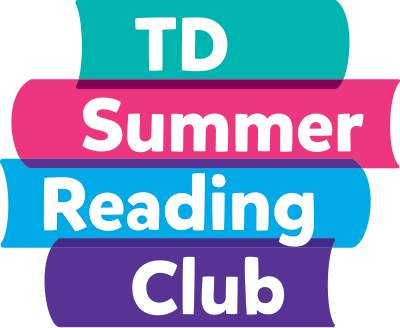 Sign up at our Launch Party or anytime afterwards at the Summer Reading Club Desk during club hours. Come back and see us often to report on the books that you have read, receive special prizes and enter contests. As a TD Summer Reader, you will have access to exclusive TD Summer Reading programs, prizes, and fun!
Club Hours
Opening Monday, July 4
Closing Wednesday, August 17
Monday - Friday: 10 am to 12:30 pm and 1:30 pm to 5 pm
Tuesday and Wednesday evenings: 6 to 8 pm
Prizes
Read 5 books = Sticker Pack!
Read 10 books = Ballot for our midsummer draw!
Read 15 books = Get a free book!
Read 20 books = A ballot to enter the Top Reader draw!
Read 25+ books = Additional ballot to enter the Top Reader draw!
You can also join our TDSRC on Beanstack.
Kickoff party: Saturday, June 25 at 1:00 p.m.
Closing party: Wednesday, August 17 at 1:00 p.m.
Weekly Activity Time:
*Must be a member of the TD Summer Reading Club.*
Join us Monday mornings from July 11 – August 8 for stories, crafts and activities for members only!
10:00 a.m. – 10:30 a.m. Ages 3-5 years
10:45 a.m. – 11:15 a.m. Ages 6-8 years
11:30 a.m. – 12:00 p.m. Ages 9-12 years
Register today for your child and pick up a summer Take and Make Craft Kit from the Library.
Kits will be available every two weeks and contain materials for simple crafts.
Available from Monday, July 4 to Monday, August 15, 2022.
There are 2 ages available:
Registeration required. Free. Click on the age groups above to register.